Publication Date: December 9, 2014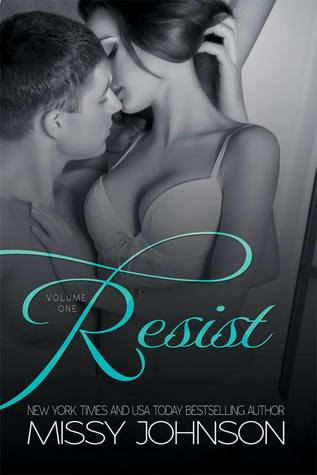 Position vacant… Successful, attractive male requires a full-time, live in assistant. Please note; this is no ordinary position. If voyeurism and explicit fantasies are likely to offend, do not apply. The successful applicant will be female, attractive and very self-confident. I am not looking for a slave, or a submissive. I'm after a challenge. Fight me. Resist me and you will be rewarded…
Resist
is the first volume in a series of three short stories by Missy Johnson. She is quickly becoming my go-to author. I really enjoyed her last series and I have a feeling this series is going to be even better!
Charlotte Lucas is looking for a fresh start. She recently caught her boyfriend of three years doing the neighbor on their kitchen counter. She's also still looking for a journaling position but nothing seems to be coming her way. On a whim, she applies to a want ad that her best friend Jess shares with her.
Successful, attractive male requires full-time live-in assistant. This is no ordinary position. If voyeurism and explicit fantasies are likely to offend, please do not apply. The successful applicant will be female, attractive and very self-confident. I am not looking for a slave, or a submissive. I'm after a challenge. Fight me. Resist me and you will be rewarded....
But Jaxon Murphy isn't just an extremely filthy rich gentleman with everything at his fingertips. He has a past that would scare most women away, but Charlotte is going to use this experience as a ticket into her journalism career, if she survives Jaxon. Hopefully, he doesn't ever find out that she has an ulterior motive for wanting this job. She isn't the only woman living in Jaxon Murphy's mansion either. Can she hold steady or rock like a baby?
We also meet another key character. Ryan, he is part owner of his father's company. A man that Jaxon is convinced had a part into his parent's murders. Unfortunately for Ryan, he has a daughter who just turned eighteen....
After working for Mr. Jaxon for a few days filing paperwork she is completely confused and knows this is supposed to be some sort of sexual job.

That was in the ad!

She is definitely attracted to him and is just waiting for him to do something to her. So she decides to take matters into her own hands. She's done waiting because she can't take it anymore.
"Have you ever ruined someone's life, Charlotte? Completely undone everything they've worked hard to build? Crush them so all that remains is a hapless shell of the person they used to be?" -Jaxon
I FLOVED IT AND CAN'T WAIT FOR VOLUME 2!!! 5 stars
Resist was the first volume in this series and it is a total mind blowing story. I was so intrigued by this story and yes it ends in a huge cliff hanger! I would give this book a 4 star. I would so recommend this book to others but I would give a warning to maybe wait for the whole series to come out if you are one who hates cliffhangers. Missy Johnson has blown me away with her books in the past and this book is right up there with the rest of hers.. she has a wicked brilliant mind and I would love to just run around in her mind one day just to see all the great ideas she has. This is a dark erotic romance so it is not suitable for all but damn you will find yourself wanting to Resist Jaxon just to see what he has in store for you... go pick up this steamy erotic page turner ASAP!
Jaxon has major demons in his past and he does not share them with others. He has a very insatiable and kinky appetite for sex so he hires woman to come in and service him at his every whim. He has mystery about him that draws the woman to him and they would do anything for him no matter what he asks, but Jaxon has been through tragedy and it has turned him into a demon but he feels he deserves the punishment.. When he decides to bring in another girl he knows right away she is the girl for him and he finds that she is perfect for a job of revenge...but will she be willing?
This has nothing to do with the need to hurt or degrade and everything to do with punishing myself. Who knows, maybe she gets that. Maybe she's more intuitive than I give her credit for. The reality is if I don't do this then I can't feel normal, and I if I can't feel normal I can't function.-- Jaxon
Charlotte is down on her luck with a job and relationships and when her best friend brings to her attention a ad for a job she thinks her friend has to be crazy because there is no way she can bow to anyone's commands and what kind of person puts an ad out for something like that?? She decides she can just go for the interview because she is desperate.. what she will find may just turn her world upside and having her believing and doing things she never thought possible just for the attention of Jaxon.
I'm twenty-four, unemployed, and my boyfriend of three years cheated on me. I can't imagine things getting any worse.-- Charlotte
This story will make your head spin and you will have many moments of why??? and how??? and what the hell is gonna happen next??? I can't wait for the next volume to come out because I have to know all the secrets and twists that are sure to come! Thanks Missy for another great book!
Missy lives in a small town in Central Victoria with her husband, and her confused pets (a dog who think she's a cat, a cat who thinks he's a dog…you get the picture). When she's not writing, she can usually be found looking for something to read.