We're celebrating the release of FALLING DEEP by Diana Gardin!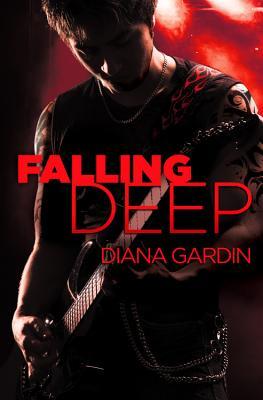 Title: FALLING DEEP
Author: Diana Gardin
Age: New Adult
Genre: Contemporary Romance
Publisher: Grand Central/Forever Yours
Scheduled to release: April 7, 2015



Reed Hopewell is a lot of things to a lot of people . . .

To his parents, he's the son who needs to get serious. To his friends, he's the player they all want to be. And to his fans, he's the hottest rocker in Charleston. But never has Reed been anyone's hero-until the night he finds Hope.

Hope Dawson can count the number of men she trusts on one hand. Definitely not the guys she goes out with or the stepfather who treats her like property. She'd be out of his house tomorrow if not for the need to protect her little sister. But when things at home go from bad to worse, Hope has to act fast-and Reed is the only person she can turn to . . .
Hope is a young women who has been handed a shit life by her mother. Hope endures it because of her younger sister Violet. Her current stepfather owns a club that is an escort service of sorts. Her deal is to ONLY be arm candy. Just long enough to save enough money to get Violet out. Her mother is as vicious as her stepfather.
Reed is also in his early twenties, expected to take over his family business. After seeing what his parents endured he vowed to never be committed. On the side he is a rockstar, unsure of what he will do with his life.
Hope and Reed come together and their chemistry is palpable. Hope tries to keep at arms length because she can't really "date"; it would be bad for her stepfather's business, causing her mother to be unhappy and taking it out on Violet - the way they know how to get to Hope.
But the fate/coming together is inevitable. What happens when Hope tells him of the truth? Can happily ever after survive for these two?
Go one click to find out!
Diana is the author of the YA novel COLORBLIND, and the NA Contemporary Romance novels OUT OF THE ASHES, SETTLING ASHES, AND WANTING FOREVER. All are available for purchase now. Diana is a Virginia girl living In South Carolina, and her beloved home in the South is the backdrop for all of her novels. She adores writing about Southern girls and boys finding their way in and out of love. She's married to the love of her life, and they have two fabulous/crazy children under the age of five.
(3) FALLING DEEP ebooks, (1) Signed copy, (1) Nelson Island swag pack and a $10 Amazon gift card
a Rafflecopter giveaway