Happy Release Day to Jessica Sorensen and her new book THE CERTAINTY OF VIOLET AND LUKE!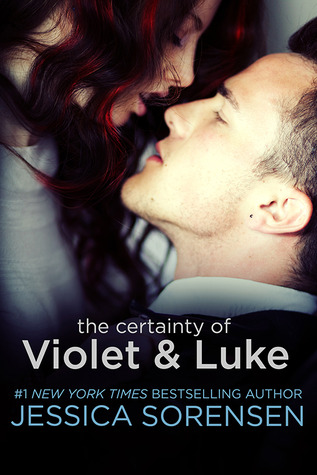 Violet Hayes's life is a mess. Between her stalker, Preston, refusing to leave her alone, her parents' case still being unsolved, and falling behind in school, she always feels on the verge of losing it. When some unexpected news comes her way, it's the final straw and she ends up doing something that almost costs her life. Thankfully, she survives and makes a promise to herself to put her life back together and to try and figure out exactly how she feels about Luke Price, the one person that's always there for her. But as a recovering alcoholic and gambler, Luke has his own struggles to overcome. He's also fallen in love with Violet, but fears telling her the truth, that it will scare her away or worse, she won't reciprocate the feeling. Plus, there never seems to be a right time to say it, either the case, Preston, or life getting in the way. Can the two of them ever get enough peace in their lives to conquer their fears and finally tell each other the truth about how they feel?
It's like he's fighting to breathe, his solid chest rising and falling heavily with each breath he takes. "You have to start trusting me." "I do trust you. Too much," I whisper, shutting my eyes. "You could crush my heart if you wanted to." The silence that follows is maddening. Did I just say that out loud? One… Two… Three… Time feels endless as I wait for what comes next. I hear him shift on the seat, feeling him scoot closer "Violet, open your eyes." His breath dusts my cheeks. I swiftly shake my head, smashing my lips together. "I can't." But I find myself opening my eyes anyway and he's so close, only inches away from me. "I would never ever hurt you," he promises, his hand gently cupping the back of my neck, fingers spreading across my skin. His touch sends a shot of tingles across my flesh and causes me to shiver as he guides me toward his lips. But I'm already leaning in, an invisible current pulling me toward him, like two magnets about to collide. When we do crash into one another, it's dangerously intoxicating, steals the air from my lungs, and sends my heart slamming in my chest. I'm already falling again to that place where I feel helpless yet safe. Emotions press their way to the surface, this time too strong to ignore. It hits me like lightning, an electric current surging through my body, overwhelming heat that both brings me alive and kills me at the same time. I think it's then that I know what I'm feeling. The thing I've been trying to avoid for days now, and I'm both terrified out of my mind yet alarmingly at peace.
The Certainty of Violet and Luke

by Jessica Sorensen tore at my heart strings but was amazingly perfect at the same time. Violet and Luke were my favorite characters from Jessica Sorensen's

The Coincidence Series

and I was happy to see them get the closure on the past that they both so desperately needed and to move toward a happily ever after that they both seemingly deserved.
"

Violet has never been the kind of girl that likes to be owned by anyone. She's always strong-willed and independent, and this is part of the reason why I fell in love with her."
Violet and Luke's story picks up right where the last left off, with Preston on the run from the cops and Luke's mother being named as the person who was involved with her parents untimely murder and the cops searching for her to bring her in for questioning. Luke is making an effort to make his life better, better for him and better for Violet because that is what he feels she deserves. He has been sober for a month at the open of the book, where Violet is spiraling out of control with her drinking, and he spends his time at school, at football and with Violet, trying to help her through probably the second most difficult time of her life. It is while doing this that Luke realizes that he is in love with Violet and he tells her at an almost inopportune time, where is he met with silence. Violet struggles daily with the images in her head, images of her parents death, fear of Preston being able to get to her, even though she is protected practically twenty-four seven, and fear of her feelings and dependency on Luke.
After taking her need for adrenaline a little too far, Violet begins to realize that she doesn't want to die as she once thought, instead she wants to live and she realizes that she loves Luke. It is with this new found admittance to herself and eventually to Luke that she is able to begin to rebuild her life without all of the outside influences she normally depends on to numb the feelings of despair that cloud her judgement.
"For the briefest second, I feel like I'm stepping into the future for once instead of drowning in the past, that maybe this is why I chose not to drown."
This book in

The Coincidence

series is a must read for all of the Callie & Kayden and Luke & Violet fans. The reader is assaulted with a variety of emotions while reading, the good, the bad and the in between. I highly recommend this book as it was a 3.5 star read for me. I cannot wait for the next books in this series!!
The New York Times and USA Today bestselling author, Jessica Sorensen, lives in the snowy mountains of Wyoming. When she's not writing, she spends her time reading and hanging out with her family.
Facebook † Twitter † Website
Book 1: The Coincidence of Callie and Kayden
Amazon, Barnes and Noble, and iTunes
Book 2: The Redemption of Callie and Kayden
Book 3: The Destiny of Violet and Luke
Amazon, Barnes and Noble , and iTunes
Book 4: The Probability of Violet and Luke
Amazon, iTunes, B&N, and Smashwords
Book 5: The Certainty of Violet and Luke
Amazon, iTunes, B&N, and Smashwords
Book 6: P
re Order Buy Link for The Resolution of Callie and Kayden
Amazon
,
iTunes
,
B&N
, and
Smashwords
a Rafflecopter giveaway