If you have not picked up this PHENOMENAL novel from Willow Aster yet?? No.... get on it! This will bring out so many different emotions in you that in the end you will be in awe of Ms Aster and her extraordinary writing skills! This is a must read!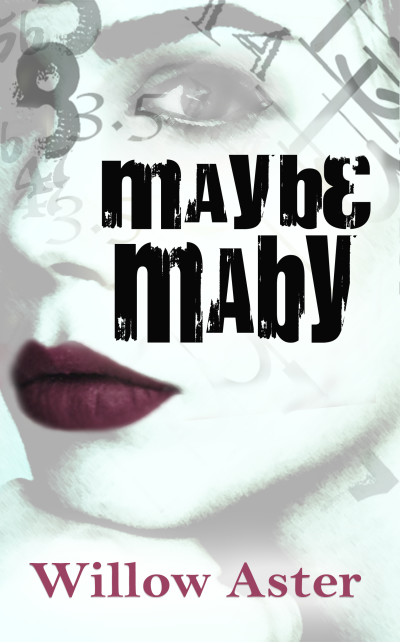 Mabel Armstrong is on the verge of giving up. But just when things feel bleakest, there seems to be a shift in the universe. People come out of the woodwork. Her ex won't leave her alone. An old friend finally tries to become more. Even the cute guy at the coffee shop starts paying extra attention. Maybe Maby is a heartbreaking, and at times, hilarious story about coping with loss, finding love in New York, and learning to recognize hope in the middle of it all.
I take off running with him not far behind. When we reach the stairs, he swoops me up, takes the stairs two at a time, and tosses me on the bed. He stares down at me. "Now what?" he asks. "Let's not sleep with our clothes on tonight." His shirt is over his head with one yank from the back. I lean up on my elbows to watch. "Your turn," he says. "Your pants are still on." He unbuttons them slowly and takes his sweet time pulling them down. His thumb loops under the waistband of his boxer briefs and my mouth waters waiting for him to take them off. He says something, but I don't hear any of it. "What?" I ask. "I said—are you sure?" He puts his hand over his mouth and looks at me, his eyes narrowing. After a long pause, he says, without conceit: "When we make love, it's gonna change things. I want to know if you're ready for that before we do." I move until I'm on my knees in front of him. "Things have already changed for me. I'm ready … if you are." He grins and pulls my dress over my head. "Haven't you been hearing me? I've been ready for you for a long time, Maby Armstrong." His hands travel down my chest and he unhooks my bra, sucking in a breath when it falls to the ground. He smiles at my yellow thong with black skulls. "You're so edgy," he smirks, getting on his knees while he pulls them off. He looks up at me. "I plan to spend a lot of time in this general vicinity." He waves his hand over the area from my lips to my thighs. "And especially here," he whispers, pulling me into his mouth. I hold onto his hair for dear life. I nearly fall back on the bed, but his hands are gripped on both cheeks, keeping my buns of nothing close to steel in place.
This book was so refreshing and different than any book I have read. Willow Aster brings us another amazing novel but this time it's a little quirkier and wittier than her other works. Where True Love Story and In the Fields are both books field with a little more angst and heartbreak, Maybe Maby is a story about a girl who suffers from OCD and depression and shows a little more humor and wit. It's a book that will make you laugh, it just might make you cry, but it will definitely have you swooning over Coen! I just loved him! He is THE perfect book boyfriend! Ok… I'm a little bias… I am so #teamCoen!

Maby knows she's crazy and deals with keeping her OCD under control on a daily basis. She works at a boutique running the day to day operations. Her life has taken a downward turn lately. Her mother was tragically murdered and she was dumped by her longtime boyfriend, Dalton, for a mutual friend. She has isolated herself from the world and head to work when she has to.

"It wasn't that my friends left me—I just stopped existing. I feel a pang of grief for that girl and a whisper of hope for the one I'm becoming"- Maby

When she thinks she is at her lowest point, a little ray of sunshine by the name of Coen storms his way into her life. He's a barista at the local coffee shop but he is determined that even though Maby may have her quirks, she is still a beautiful person inside and out.

"I kissed a girl I've wanted to know for a long time, and in a single moment, we were instantly in sync. The stars and planets aligned I've never had a first kiss that was so… perfect."- Coen

But just as luck would have it, an old friend Saul is back in Maby's life. He was friends with her and her ex Dalton and now she is single, he wants a chance to prove they could be good together. I liked Saul, I really did. There is nothing about him not to like but I am so Team Coen, he just had me from the beginning. He was just so perfect and I really felt that him and Maby were meant to be. They both knew when they were together that things were right. Saul was safe and comfortable. Maby knew him where Coen was the unknown. Just to add more fire to the mix, her ex Dalton has an epiphany and wants to get back together. He starts texting her and will not leave her alone.

Maby's story is a wonderful story of self-discovery and to find true happiness, Maby must find happiness in herself. She has three men at her choosing… The man her broke her heart and wants her back, the man who has always been her friend, or the man who accepts her for who she is. It's a fabulous must read that you will devour and love!
Willow Aster is the author of True Love Story, In the Fields, and Maybe Maby. She lives with her husband and two kids on a tropical beach in paradise. Well, at least part of that is true … the rest is Story Lala Land, where Willow spends most of her time.